When it comes to the preservation of console games of the 1990s, the development work that came out of Korea tends to get overlooked by many historians and archivists. And it's not hard to see why: these games were usually only sold in Korea and, even then, in what seem to be pretty small quantities. Glancing through the many, many games on Sam Derboo's A History of Korean Gaming (by far the definitive English-language resource on the subject) will reveal a surprising amount that are not generally accessible to people.
Which is why we were thrilled to be recently given the opportunity to help archive one of the few remaining "lost" Korean console games: Dooly Bravo Land.
Dooly the Little Dinosaur is a popular cartoon star in Korea. This particular game, released by Daou Infosys in 1992, was the character's only outing on Nintendo's 8-bit system. It was also the final game in Daou's Dooly trilogy – the other two titles were released on the MSX and the Sega Master System.
This was an exciting score for us, because in many ways, it closes the books on digitizing some of this rare history: it was the only missing Daou-developed game, the only missing Dooly console game, and most likely, the only missing Korean-developed, original game developed for the NES during the system's lifetime (other unpreserved software is either posthumous or utilitarian, i.e. educational software or digital karaoke).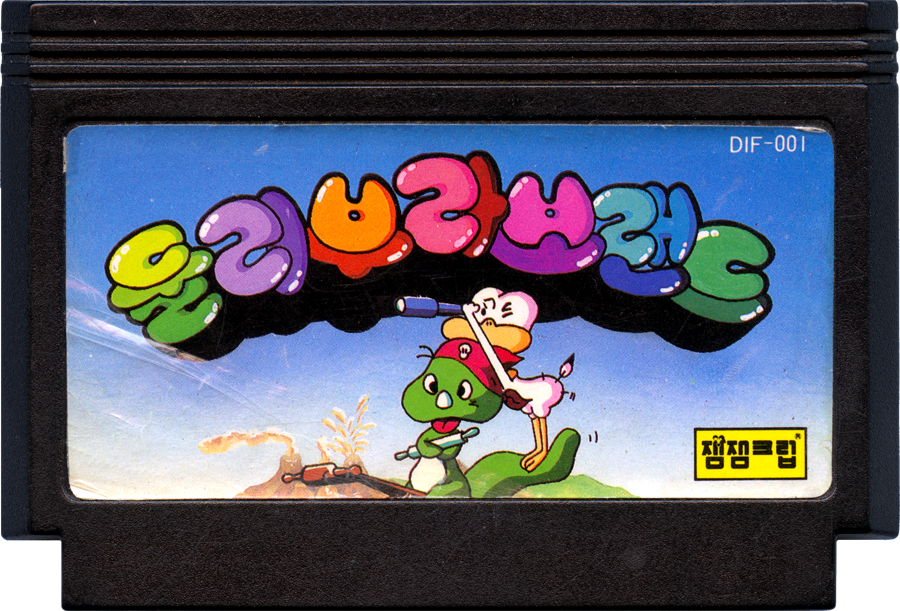 This cartridge was kindly loaned to us by a Korean collector going by Taksangs. Thanks to Sam Derboo for arranging the loan, and to Kevin Horton for help with the digitization process.
Our Dooly Bravo Land archive – which includes the game binary, cartridge scans, and a lossless video recording (via emulation) – is available on The Internet Archive.
But wait, there's more
Did you know that The Video Game History Foundation has a Patreon community? This is where we get a little more personal, and post some behind-the-scenes content and thoughts. We'll never lock anything important behind a Patreon wall, but it's a great way to get a little more involved if you believe in what we're doing here.