Wow, what a year!
2019 was by far the biggest one yet for The Video Game History Foundation. We spoke at conferences around the world, got interviewed multiple times over, built a library AND a museum display, went on a five-week archiving expedition to the most important collection in the world …heck, we were even in three documentary movies that debuted this year!
Even we had a hard time remembering all that happened in 2019, so we thought we'd take this opportunity to celebrate with you, our beloved supporters and donors, by rounding up the highlights of the year. Remember, none of this would have been possible without you, you're the ones who keep the lights on for us!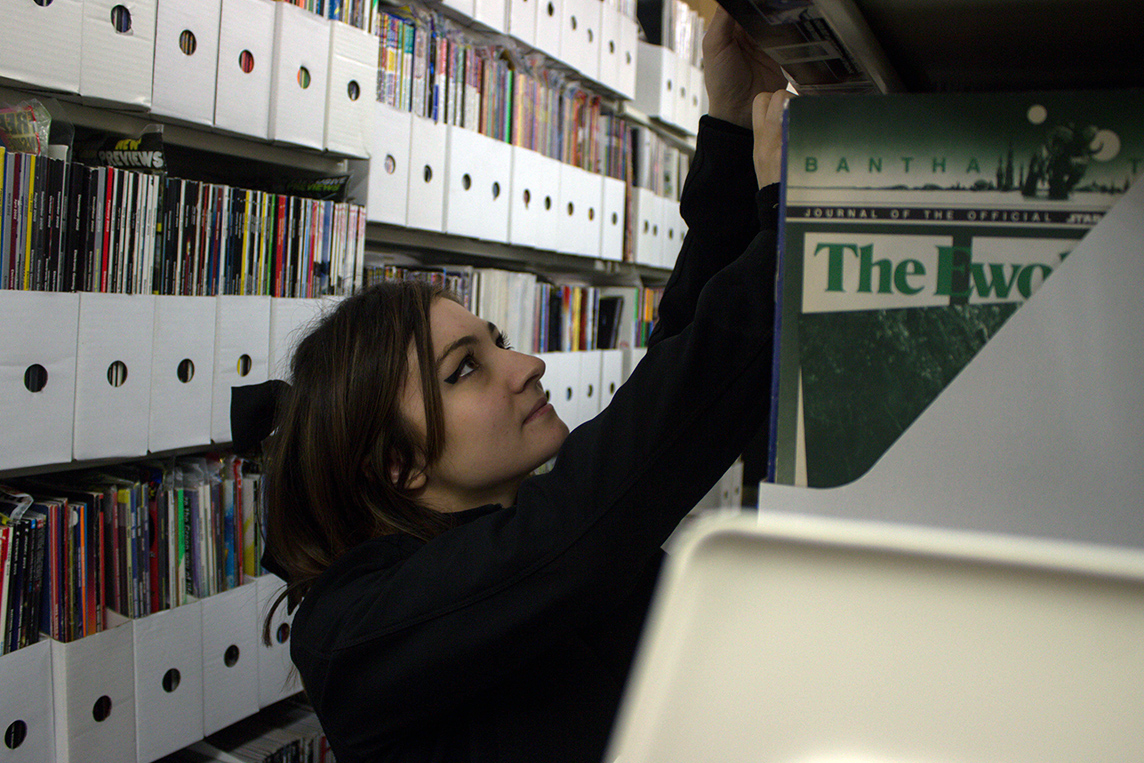 We built a library!
We started off 2019 by building out our very first office space and library! Our goal from the start has always been to have a publicly-accessible archive of video game materials, and this first "starter office" has gotten us much closer to that goal. It's a little too small to entertain more than the occasional researcher, but it's a start!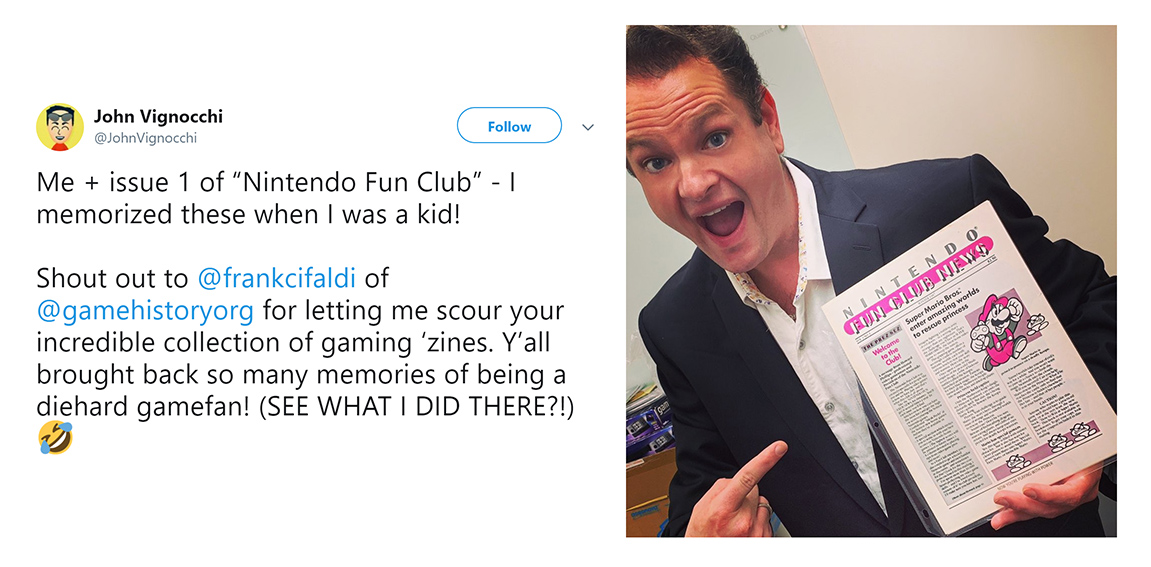 We did all the painting and electrical work ourselves, and installed professional library shelving to house our extensive reference library. We've already had quite a few guests come through, and hope to have even more in 2020!
We spoke at events!
Frank and Kelsey had a busy travel year in 2019, speaking about video game preservation at an astounding ten events around the world!
The highlight was Frank's talk at Game Developers Conference, titled "It's Still Emulation." The talk has been viewed more than 37,000 times on GDC's official YouTube channel, and was ranked 20th overall at the show out of 410 total talks! Clearly the idea of preserving our heritage resonates with the game industry crowd.
We were also joined on the road this year by a brand new volunteer – Howard Phillips! Howard will be joining us from now on to help us advocate for preserving the past. His experience as the public face of Nintendo in the 80s and early 90s has been gaining us a lot of attention among the retro enthusiast crowd, and his industry experience and insight has been invaluable in our fundraising efforts.
A selection of 2019 appearances on YouTube:
Boy Wonder(swan) – The Lasting Impact of Gunpei Yokoi (MAGFest 2019)
Kelsey Lewin discusses the career of the late designer of Nintendo's original handheld systems.
True Weird Stories from Video Game History (MAGFest 2019)
A group of historians, including Kelsey and Frank, swap strange tales to an audience of late-night enthusiasts.
The Strange Death of the Nintendo Entertainment System (MAGFest 2019)
Frank illustrates how the good ol' NES never really died, if we take a more global perspective (and skirt copyright a little…)
It's Still Emulation – Saving Video Game History Before It's Too Late (GDC)
Frank talks to a large audience of video game industry professionals about what we've already lost, and how we can stop the damage going forward.
Saving Nintendo's Past with Howard and Frank (Portland Retro Gaming Expo)
Frank discusses Nintendo of America's early history with someone who was actually there – former "Fun Club President" Howard Phillips!
The Video Game History Foundation (Portland Retro Gaming Expo)
Frank and Kelsey team up to give an overview of the organization to a crowd of video game collectors and enthusiasts.
We acquired some amazing things!
Thanks to your generosity, 2019 was a landmark year for acquisitions to our archives – both via donations and the occasional purchase. A few highlights are below.
We're thrilled to house the remaining archives of GamePro magazine! Thanks to two separate donations, we not only have the full run of the physical magazines (including its rare spin-offs), we also have what remains of the its digital layout files and its art archives! There are literally hundreds of discs that not only give us insight into how the magazine was made, but also what materials video game companies provided to make it happen.
A true highlight was a donation of materials related to the development of the Starflight series of computer games. The collection includes handwritten notes, documentation, retail games, and even the original source code – just about anything a historian would need to understand how these landmark games were made.
Another game development donation this year came via Mike Dietz. Mike has generously agreed to let us house his archive of material related to his work on the Sega Genesis version of Disney's Aladdin for Virgin Games, consisting of a wide variety of artwork generated for the game's animation. The donation also includes the game design document, press clippings, and correspondence between Virgin and Disney regarding the game's direction. This collection joins our existing Aladdin source code repository, giving historians an extensive look at how the game was made.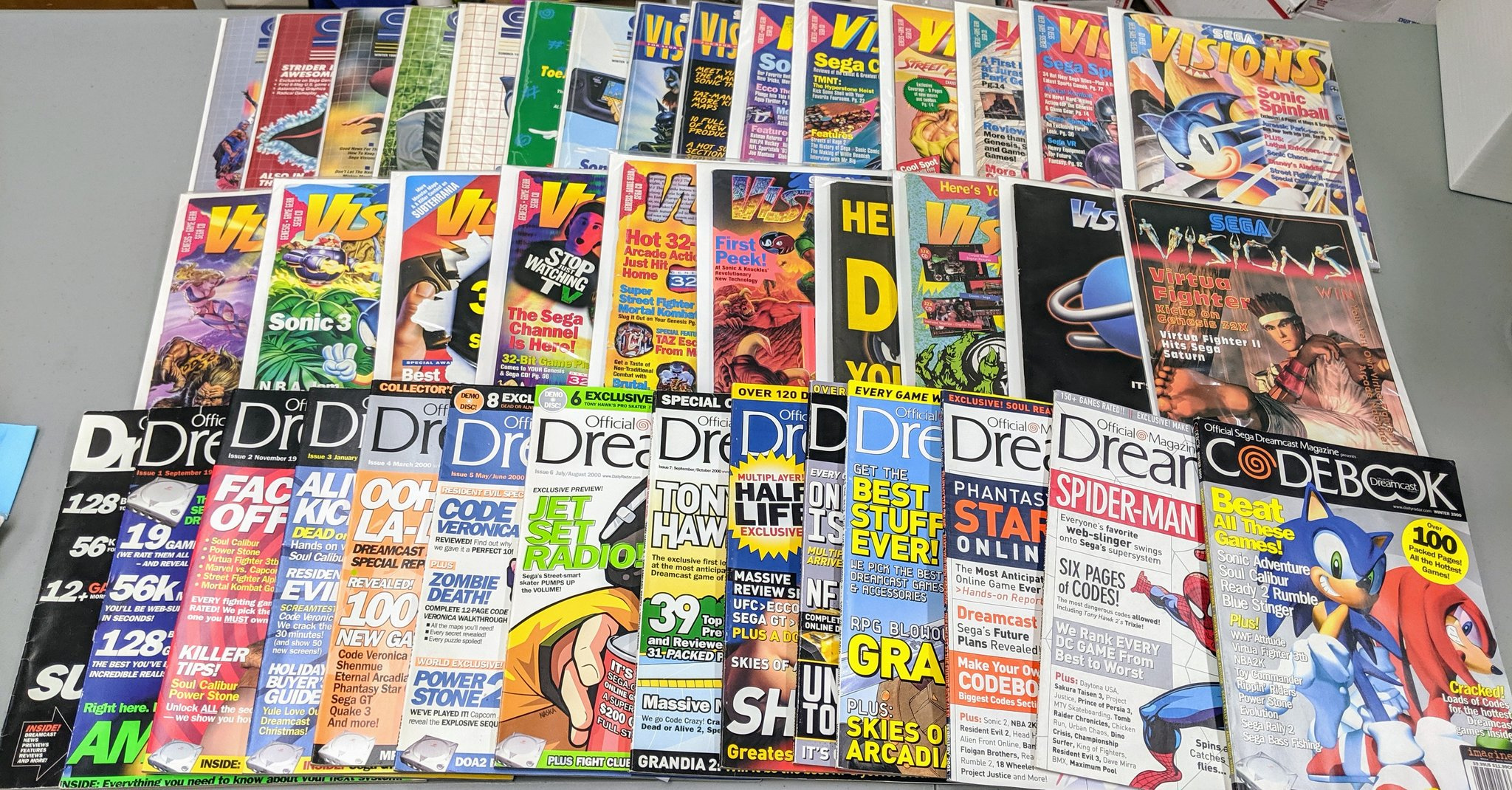 A big focus this year was on fleshing out our resource library. We were fortunate to have some incredible donations and purchasing opportunities come in to help fill in some of our gaps. At this point, our library houses complete collections for nearly all of the major U.S.-based video game magazines, a wide variety of international publications, and some truly rare video game trade magazines and internal company newsletters.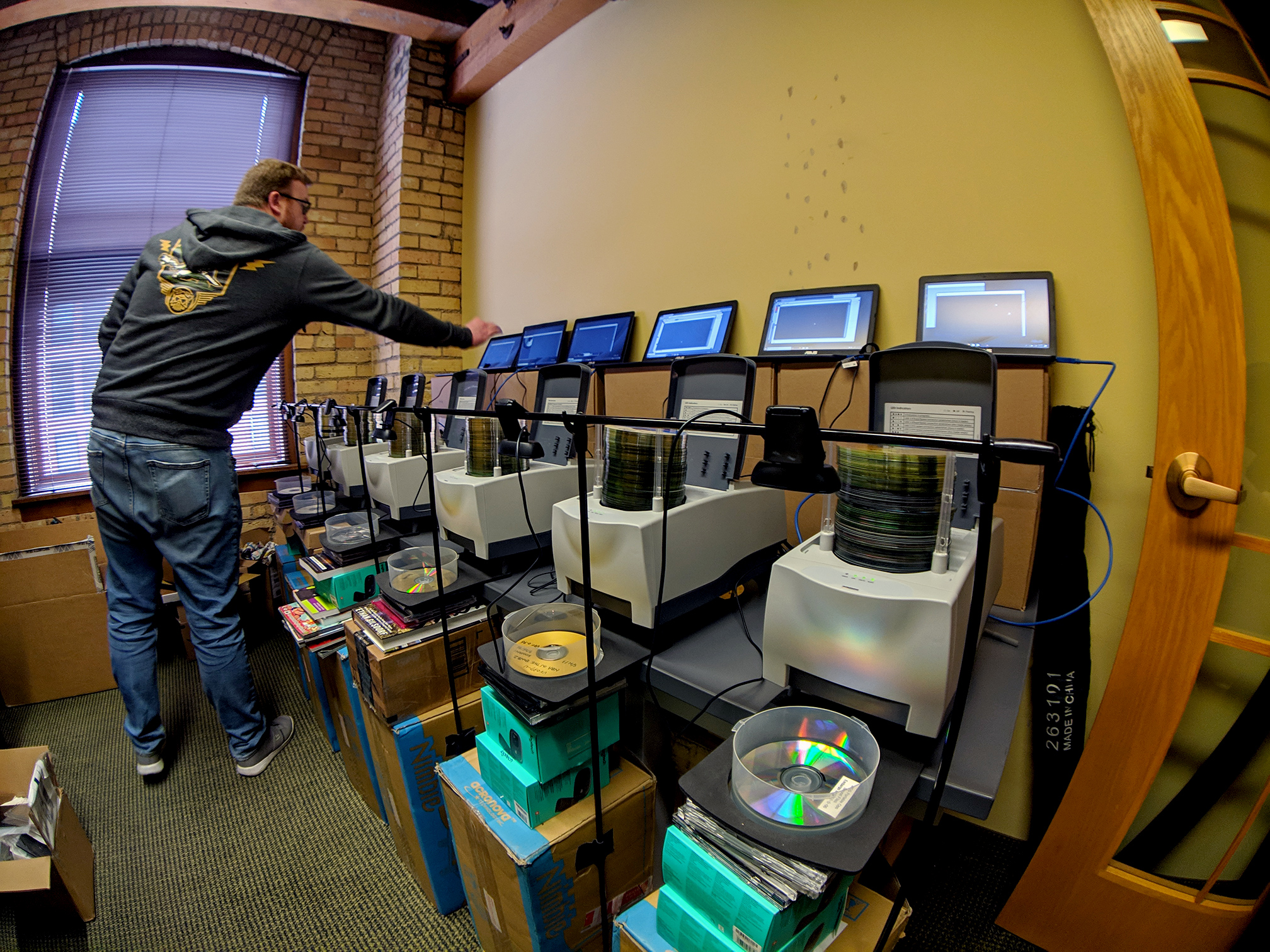 A first-of-its-kind game archiving expedition!
Did you know that the VGHF hosted a five-week-long archiving party? We were once again invited this year into the offices of Game Informer magazine to help digitize and catalog its extensive collection of video game press material going all the way back to 1991! Up to six of us at a time worked full-time Monday through Friday backing up as much data as we possibly could.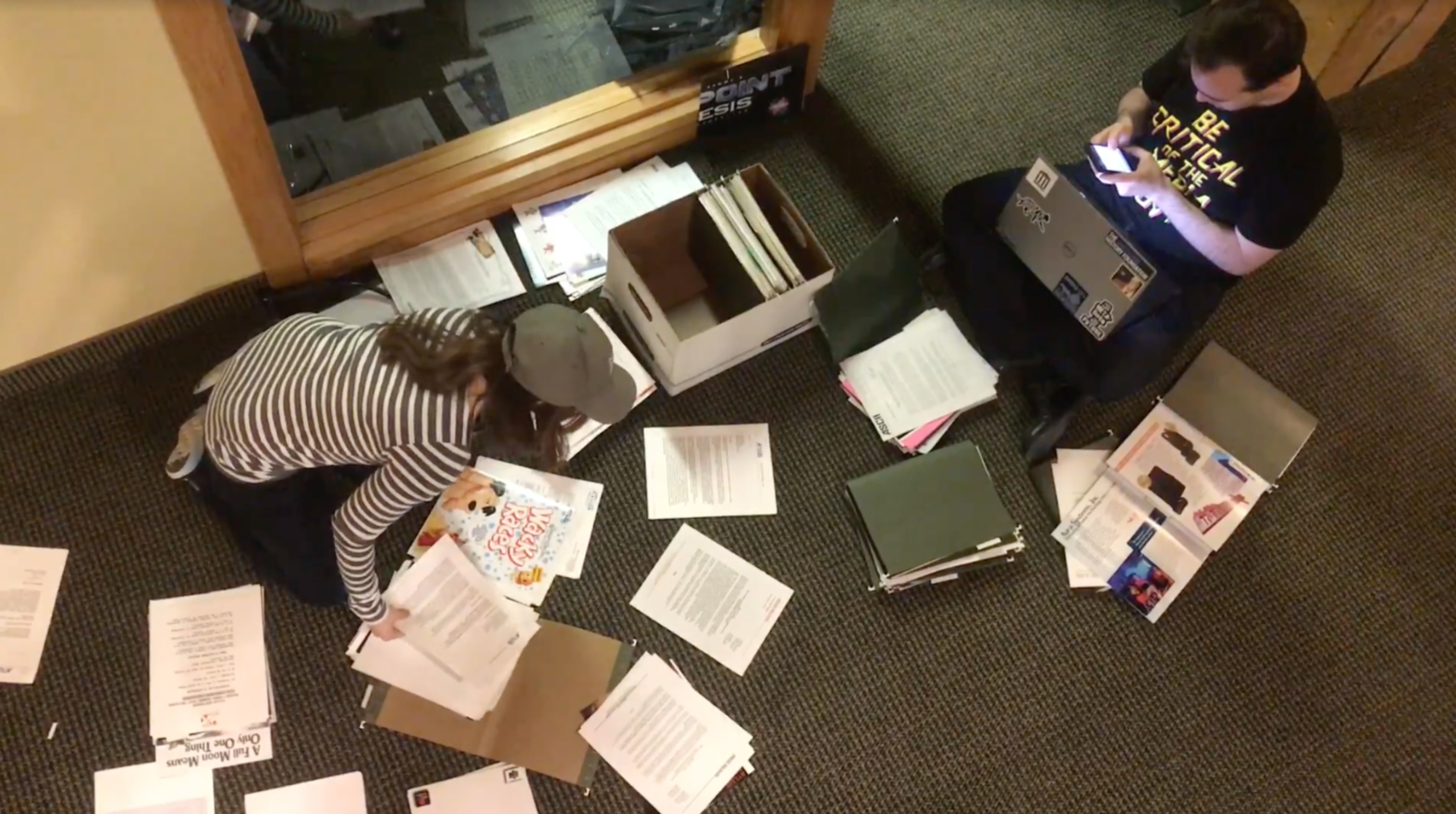 It is no exaggeration when we say that this is likely to be the most important surviving collection of what we call "ephemeral video game material" – that is, material that was never meant to be kept. There are original press releases, brochures, press kits, and even screenshot and art on film.
These don't just help to contextualize our past, they even offer rare glimpses at unreleased games that are considered lost!
We had a charity stream!
This year Limited Run Games hosted a 24-hour charity stream to benefit the VGHF! Kelsey and Frank made an appearance to talk about the importance of preservation – and to play games, of course.

Limited Run has been an amazing friend to us in 2019. In addition to the stream, they also allowed us to add a $1 donation button to their shop's checkout page, which has been a big donation driver for us.
Press, podcasts, and films!
Here's a selection of articles published this year that either talked about the VGHF, or used us as interview sources:
Here are podcasts we made appearances on:
And finally, we were featured in three films that debuted this year!
We built a pop-up museum!
For the third year in a row, the VGHF sponsored the annual museum section of the Portland Retro Gaming Expo, the world's largest convention for vintage video game enthusiasts and collectors.
This year's theme was the 30th anniversary of Nintendo's Game Boy. We dug into our archives, as well as those of some very generous collectors, to showcase the largest public display of Game Boy-related games and ephemera that has ever been assembled!
And we're only just starting.
2019 was by far our biggest year ever, and there's no sign of slowing.
Our 2020 is laser-focused on growing the VGHF into an institution that will outlive us all, truly a foundation for video game history. Our fundraising efforts will revolve around our need for a larger library space to accomodate researchers, getting the video game industry more involved in preserving its own history with us, and cataloging the literally thousands of artifacts that we're eager to get into the hands of historians.
Most importantly, we believe 2020 will be the year that we cut our first staff paycheck. The Video Game History Foundation has traditionally been a 100% volunteer organization, but we're going to change that. After all, if we managed to do all of this in just one year as volunteers, what else can we achieve?
Thank you to all of our existing and future donors for helping make all of this possible! We're creating something truly new here, and making it easier and easier to tell the stories behind the world's greatest form of expression. I hope you'll stick with us — we're only just beginning.